Searching for the Best Place to Pawn a Gun
A lot of people think of owning a gun as essential for protection. They don't think of doing anything else with the gun other than taking it to the firing range for practice and having it on hand for "just in case." But a gun is actually a very valuable possession. You can sell it or pawn it to get money you need fast. You just need to know where to go to get the best deals, and you need to know what the rules are for selling or pawning a gun.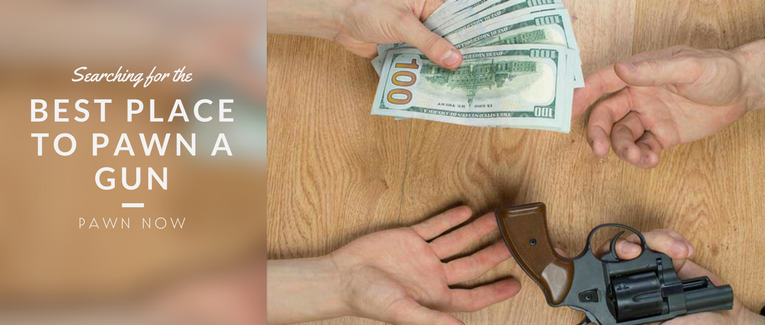 Here's what you need to know about taking your gun to a local pawn shop in Mesa or elsewhere in Arizona:
What to Look for in a Pawn Shop

Any business that buys or sells guns is required to be a Federal Firearms Licensee. If you are going to sell or pawn a gun, you must work with a pawn store that is licensed. Otherwise, you could end up in hot water yourself. The gun could end up in the wrong hands, and the chain of ownership could be traced back to you, leaving you with some awkward questions to answer.
In addition to making sure the Mesa pawn shop is licensed, you should also make sure the pawn shop buys the kind of guns you want to sell and that it offers the best prices. You'll get a little more when you pawn the gun since the pawn store makes a profit on the interest. If you are selling the gun, the pawn shop has to offer you less to make room for re-sale profit. Ask around and do a little research online to find out what kind of experience others have had with the pawn shop.
What Types of Guns are Pawned

You can pawn just about any kind of gun you own so long as you find the right gun pawn shop. Some pawn stores trade in rare and antique guns, as well, and you can typically get top dollar for this. But most pawn shops that buy and sell guns will trade in anything that's currently on the market. The gun should be in good condition and should be working properly.
If you have any questions about whether your gun will be accepted, either check out the website or call ahead to ask. Know that whatever gun you pawn, the pawn store should have the ability to store it securely. You shouldn't have to worry about the safety of your gun while you are paying back the loan.
The Pawn Process

Before you head down to your local pawn shop with your gun, you should completely unload the gun and put it in a protective case. Be prepared to show your identification. The pawn shop will run your name and the gun to ensure that you are legally permitted to own the gun and that the gun is not stolen.
Your gun should have a serial number. If it does not, the pawn shop will not accept it. The employees may even put a call in to report the gun since it is illegal for a gun to not have a serial number.
Buy, Sell or Pawn Guns | Pawn Now
You will get an offer for your gun, including an amount and terms that outline interest and payback period. If you accept, you will hand over your gun for safe keeping and will sign all the appropriate paperwork. You will have the cash in hand after that.
Know that once you pay off your pawn loan in Mesa, you may need to submit to another background check before you can get back your gun. This is the law, and any reputable pawn shop you deal with will follow all laws regarding gun sales and purchases.
Pawning your gun in Mesa, AZ is a great way to get money you need fast without having to forfeit any of your valuables. You pay back the loan and get back your gun to use or pawn again another day.
Pawn Now in Arizona buys and sells all kinds of guns, including rare and antique firearms. We offer top dollar for firearms, and we keep them protected in our secure storage facility for the duration of your pawn loan. We have eight locations in Arizona, including in Mesa and the Phoenix Valley area. Visit us at one of our locations today to find out how much you can get for your guns!
Published By:
Pawn Now
Pawn Now Phoenix – 85043
691 W. Baseline Rd.
Phoenix AZ 85043
Phone +1 602 276-1664
Pawn Now Phoenix – 85022
14601 N Cave Creek Rd.
Phoenix AZ 85022
Phone +1 602 765-4444
Pawn Now Phoenix – 85019
4135 W. Indian School Rd.
Phoenix AZ 85019
Phone +1 602 442-2160
Pawn Now Mesa – 85207
8151 E. Apache Trail‎
Mesa AZ 85207
Phone +1 480 964-6666
Pawn Now Mesa – 85210
1145 S. Mesa Dr.
Mesa AZ 85210
Phone +1 480 668-1009
Pawn Now Apache Junction – 85120
900 W. Apache Trail
Apache Junction AZ 85120
Phone +1 480 288-7296
Pawn Now Mesa – 85204
361 S. Lindsay Rd.
Mesa AZ 85204
Phone +1 480 777-7771
Pawn Now Scottsdale – 85257
7841 E. McDowell Rd.
Scottsdale AZ 85257
Phone +1 480 300-4653