Purchase a Laptop at an Arizona Pawn Shop
Technology changes so fast it can seem like you have to buy a new laptop as soon as you've just bought the old one. So why pay full price for a brand new laptop that you'll only have to replace in another year or two? Instead, you can save a lot of money by buying a laptop from a local Phoenix pawn shop.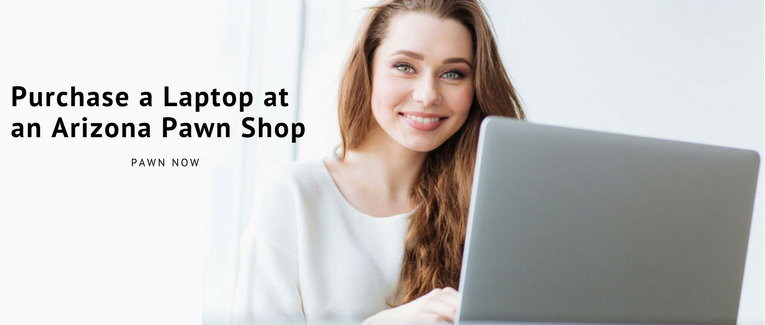 Many people bring in their new laptops to sell when they need money in a hurry. Therefore, you don't have to worry about getting the latest tech if you shop at a pawn store in Phoenix. Pawn shops only accept the latest technology when they buy electronics or offer a pawn loan for them. You can trust that you are getting a laptop that you might even still find in stores, or at a minimum that will have the same type of processor and other hardware.
The Perfect Solution for Your Student

In particular, buying a laptop from a pawn shop is a great solution for your rising high-schooler or college student. Your student will start doing serious research in high school and will be required to write big term papers in preparation for college. Those papers must be typed and formatted correctly, and having a laptop will make this easier.
By the time your student is in college, having a laptop will be an outright necessity. Sure, your student can head to the library and use the computers there, but it will be time-consuming. Plus, the library won't always be open when your student is pulling an all-nighter trying to get that term paper in the day it's due. A laptop can also give your college student easy access to the Internet for research and can make it easier to take notes in class.
Buying a laptop at a Phoenix pawn shop will give your student an essential piece of equipment for academic success while also saving you a lot of money. Now is the perfect time to shop since the start of school is just around the corner.
Inspecting a Laptop before You Buy

At a minimum, you will need to power on a laptop and spend some time using it before you commit to buy it.
Spend some time opening programs and using them. Open the word processing and put in some dummy text then save it. Open one of the games and play a quick round. Explore the apps that are available on it (if any). Spend enough time to get a feel for how the computer operates and whether there are any glitches. Note if anything is missing or anything doesn't work. Pay special attention to the quality of the screen and whether it blinks or has any dead pixels.
Check out the specs on the computer also, including how much memory it has, what kind of processor, and so on. Compare these specs to what's currently on the market. The computer should have similar characteristics. You don't have to get something that is cutting edge, but you should also avoid something that has an outdated operating system or processor since it will have a short life span and it will be hard to find technical support for it.
Arizona's Top pawned items | Pawn Now
A laptop is an essential piece of equipment for your high-school or college student. But since students this age can still be hard on technology, and since technology tends to turn over so quickly anyway, it's better that you shop for a laptop at your local pawn store and save a lot of money instead of buying new and spending full price.
Pawn Now in Arizona offers great deals on laptops and other electronics that will help your student in school. You can also shop for items like music instruments, graphing calculators, and tablets. We buy and sell only the best electronics and the highest-quality jewelry, tools, and other goods. You get the best prices on the best items. If you are looking to make a little extra cash, you can also bring in your valuables to sell for top dollar or to get an affordable pawn loan. Visit one of our many Arizona locations today to learn more or to shop for what you need.
Published By:
Pawn Now
Pawn Now Phoenix – 85043
691 W. Baseline Rd.
Phoenix AZ 85043
Phone +1 602 276-1664
Pawn Now Phoenix – 85022
14601 N Cave Creek Rd.
Phoenix AZ 85022
Phone +1 602 765-4444
Pawn Now Phoenix – 85019
4135 W. Indian School Rd.
Phoenix AZ 85019
Phone +1 602 442-2160
Pawn Now Mesa – 85207
8151 E. Apache Trail‎
Mesa AZ 85207
Phone +1 480 964-6666
Pawn Now Mesa – 85210
1145 S. Mesa Dr.
Mesa AZ 85210
Phone +1 480 668-1009
Pawn Now Apache Junction – 85120
900 W. Apache Trail
Apache Junction AZ 85120
Phone +1 480 288-7296
Pawn Now Mesa – 85204
361 S. Lindsay Rd.
Mesa AZ 85204
Phone +1 480 777-7771
Pawn Now Scottsdale – 85257
7841 E. McDowell Rd.
Scottsdale AZ 85257
Phone +1 480 300-4653