Phoenix Pawn Broker 85043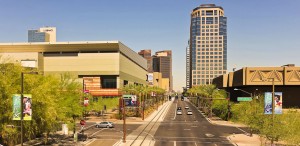 Arizona residents living in South Phoenix who suddenly find themselves in financial dire circumstances, but cannot or do not want to obtain a "regular" loan, can turn to Pawn Now for immediate help. In times of recession and financial hardship, pawnbrokers are able to provide invaluable service and quick loans to assist South Phoenix residents in paying their bills or "making ends meet".
When you bring your valuable items to Pawn Now, be it as collateral for a pawn loan or to sell it outright, you can be assured that you are dealing with professional, reliable experts. Our professional Arizona pawn brokers know that your items are worth, and are trained to give you a prompt quote and a speedy loan. The entire process generally takes less than 15 minutes.
Pawn Now in South Phoenix is looking to buy or pawn items such as power tools, jewelry, musical instruments, electronics, even motorcycles or cars. Our large storage facilities enable us to take in anything our customers might bring to us. Our state of the art security systems further guarantee the safety of your pawned items until you return for them. Your items will be returned to you as they were when you brought them to Pawn Now.
Pawn Now
Affordable, Local, Top Rated Pawn Shop
Buy, Sell or Pawn Jewelry & Diamonds
Buy, Sell or Pawn Precious Metals
Buy, Sell or Pawn Gold
Buy, Sell or Pawn Silver
Buy, Sell or Pawn Guns
Buy, Sell or Pawn Electronics
Buy, Sell or Pawn Musical Instruments
Buy, Sell or Pawn Tools & Construction Equipment
Regardless of where in the valley you might find yourself, there is a Pawn Now location nearby. We have three offices in Phoenix, three in Mesa, one in Apache Junction, one in Chandler, and one in Scottsdale. When you are ready to pawn or sell your valuables, you can rest assured that Pawn Now can offer you over 25 years of experience and expertise, will treat you fair and courteously, and are true experts at what they do while never losing their values and integrity.
Check us out today, see what we can offer you for your South Phoenix valuable items, or items you might even have forgotten about. Pawn Now-we are here for you!
Pawn Now - Pawn Shop in Phoenix 85043
FROM OUR CLIENTS

Super fast service and transaction!
"In and out in no time, back on my way to work with money in my hand! Thanks for the great service."
David W. – Phoenix
Glad I chose this store!
"I chose to go to this store based on some of the reviews I read. I was not disappointed."
Portia L. – Phoenix
Wonderful customer service!
"The young man at the desk was so sweet and pleasant.
I will be back."
Sandra P. – Phoenix
Great location!
" Gave me a fair price for my violin. Definitely would suggest utilizing them in a pinch."
Nikolette B. – Phoenix