Will My Local Arizona Pawn Shop Buy a Broken Computer?
It is common to wonder what types of items local pawn shops are willing to purchase, and in what condition. When it comes to computers, broken computers in particular, there really isn't an answer that is absolutely yes or absolutely no. There are several factors that go into this decision, such as what exactly is broken, whether you know what exactly is broken, and how popular the computer model you have is. Let's go over some options you may have with that broken computer before you take it to recycle.
One thing to remember about AZ pawn shops is that they are not like the big box stores. There isn't one set of rules for the way all Scottsdale pawnbrokers do business. Each and every pawn store in Arizona has their own manner of doing things, their own rules on what they will and will not purchase, and their own ability on what they can and cannot repair.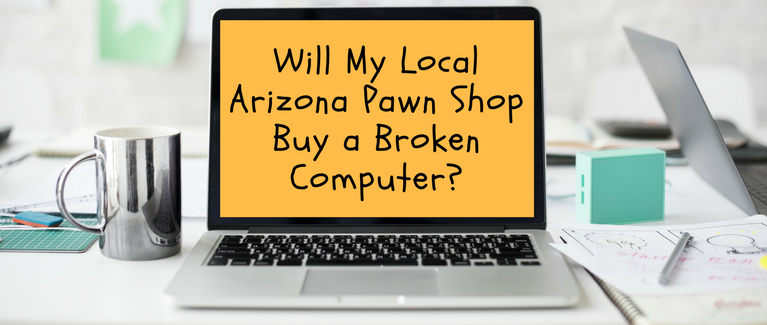 You will find some local pawn shops that love electronics, and will be more willing to take on a broken computer than others. Then, you may find other pawn brokers who are not willing to look at a computer unless it is in excellent working condition, and that's only if they will agree to consider electronics at all.
Being in the business of making money, Scottsdale pawn shops are only going to invest their time and money into something that promises a good return. If it's more work than it's worth, or they determine that it isn't worth the time, you're going to get a solid no. The ease of re-sale of an item is a huge factor in what the broker will purchase and what they pass on. It's not easy to re-sell a broken laptop if there isn't a market specifically for that.
However, there are some pawn shops who have the ability to fix the laptop themselves, or they have a connection that they know would be interested in purchasing the item because they have a particular interest or focus on such items. Here are some things that you can consider before going into a local pawn shop with your broken computer.
What's Exactly Wrong?
Before you venture out to locate a pawn shop that is willing to purchase a broken computer, you should know what exactly is wrong with it. If it's something simple, like a bad battery, it could increase the chances of finding a Scottsdale pawn broker willing to take it in comparison to having a bad motherboard or hard drive.
If you can find out what's wrong beforehand, so you know what exactly you're offering, it helps your chances of finding a pawn broker willing to take it. If you cannot pinpoint the exact problem, not all hope is lost, but it can hurt your chances of finding a pawnbroker near Scottsdale willing to purchase it.
Finding a Pawn Shop to Buy
There are a few ways to locate a local pawn shop to purchase your broken computer. One way, that is probably the most time saving, is to do a Google search for "local pawn shops" and call a few to ask their policy on purchasing broken computers.
If the Scottsdale Pawn shops you get a hold of are not willing to purchase the computer themselves, ask if they have any leads on who may be willing to purchase the computer. Odds are, if they're in the business, they will know someone in their network willing to at least give it a look.
What If I Can't Find a Pawn Shop to Buy?
It is possible that your search for a pawn shop to buy your broken computer comes up empty, but that's not the end of the line for you. Before you go recycle the computer, try posting an ad online on Craigslist or the Facebook Marketplace.
Odds are, there is someone out there who would be willing to buy the computer, whether to repair it or use it for parts to fix other computers. You may even do a little search online for networks that search for broken computers. You may realize you've seen their services advertised on social media or Craigslist. If you can locate contact information, give them a try too.
Still No Buyers
If you've exhausted the resources in this article, try locating a local computer company to see if they'd have any use for the computer. Some smaller computer businesses may be more than willing to buy the computer off you, especially if it's a popular or common model. They may have no intention of fixing it, rather using it for the parts that are still in working order.
These are just a few options you have for that broken computer. If you are looking for a AZ local pawn shop to purchase that computer, give Pawn Now a call at 480-668-1009 to see what we can work out with you. We have several locations here in the Valley, and have a wide array of electronics in each of our shops.
Published By:
Pawn Now Scottsdale – 85257
7841 E. McDowell Rd.
Scottsdale AZ 85257
Phone +1 480 300-4653
Pawn Now Phoenix – 85043
691 W. Baseline Rd.
Phoenix AZ 85043
Phone +1 602 276-1664
Pawn Now Phoenix – 85022
14601 N Cave Creek Rd.
Phoenix AZ 85022
Phone +1 602 765-4444
Pawn Now Phoenix – 85019
4135 W. Indian School Rd.
Phoenix AZ 85019
Phone +1 602 442-2160
Pawn Now Mesa – 85207
8151 E. Apache Trail‎
Mesa AZ 85207
Phone +1 480 964-6666
Pawn Now Mesa – 85210
1145 S. Mesa Dr.
Mesa AZ 85210
Phone +1 480 668-1009
Pawn Now Mesa – 85204
361 S. Lindsay Rd.
Mesa AZ 85204
Phone +1 480 777-7771
Pawn Now Apache Junction – 85120
900 W. Apache Trail
Apache Junction AZ 85120
Phone +1 480 288-7296
[/fusion_text][/fusion_builder_column][/fusion_builder_row][/fusion_builder_container]