Myths about Arizona Pawn Shops
Pawn shops are the best places to go to buy used goods, to sell the valuables you don't want anymore, and to get a great deal on a secured loan. You don't have to have good credit to get the loan; you just need to offer up a valuable item as collateral. You'll get the money you need quickly, and you'll get valuable terms.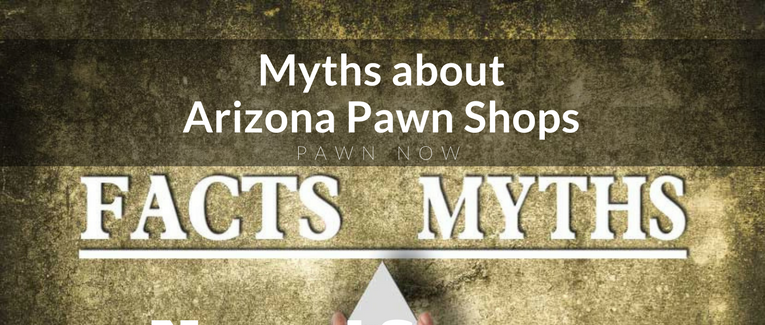 Yet despite the many benefits of Chandler pawn shops, there exist a lot of myths that keep people away. Identifying these myths and understanding the truth behind them will help you cut through the noise and learn about resources that will truly help you. Here are a few myths that you might have heard and believe about Arizona pawn shops (with the reality behind them):
Myth #1: The Interest Rate on Pawn Loans is Too High

Just like with any loan, the interest rate on a pawn loan depends on who gives you the loan. Different pawn shops have different rates. Go to an unethical or predatory pawn store and you are going to get a sky-high interest rate. Go to a pawn store that has a good reputation in the community and you are going to get a reasonable rate that lets you pay back your pawn loan comfortably in a short amount of time.
Shop around to find the best deals before you commit to any loan. Google "pawn shop near me" and check out the reviews, policies, and more to find out as much as you can about the shop.
Myth #2: Only Poor People Need a Pawn Loan

Anyone who has an unexpected expense or an unexpected issue with cash flow can benefit from a pawn loan. You may need one after a car accident, after you miss time from work due to an illness, or even after your AC goes out. None of us saves as much as we can, and not all of us have good credit. Neither of those things is a reflection on how much money we make.
Myth #3: You Have to Make Monthly Payments on a Pawn Loan

Pawn loans are typically issued for terms of three months. You can make payments every month if that's convenient, or you can make payments whenever you have the money. You are going to be responsible for the principal and whatever interest or fees have accrued in the three months. You can even pay off the whole thing by the end.
In fact, you don't actually have to pay anything toward your pawn loan if you can't. You can pay the fees and interest and then renew the loan for another term if you can't pay the principal. We don't recommend this since you are just adding up more interest, but it's an option if you are still having financial difficulties.
Myth #4: Pawn Shops Sell Stolen Merchandise

A lot of people don't like to even go into pawn shops, let alone patronize them, because they have an image of pawn shops as seedy places that attract criminals looking to sell stolen goods. The truth is that a good pawn store will do everything it can to weed out stolen goods and to verify that what it's selling or pawning is legitimate. Pawn shops run serial numbers, look at gun permits, and report all transactions to local law enforcement, among other measures to try to keep out stolen goods.
Be prepared to show your ID and possibly proof of ownership if you are bringing in something to pawn.
You may think that it's not worth it to get a pawn loan because the pawn shop is going to offer you as little as possible for your valuables. You may feel like you have a better shot of selling your items on eBay or the open market. While it's true that pawn shops will offer you slightly less than if you sold the item yourself (they have to make a profit, after all!), it's not true that pawn shops will try to cheat you.
A good pawn store in Chandler will make you a reasonable offer and should be prepared to explain to you what goes into determining the offer. For example, the pawn store owner should be able to point to the daily price of gold or silver if you are pawning jewelry.
Your AZ Pawn Shop | Pawn Now
Don't let the myths surround pawn shops keep you from all the great benefits they offer. You can shop for quality goods at lower prices than you would find retail. You can sell the items you no longer want for a good price, and you can get a pawn loan for reasonable terms to help you get through a financial emergency.
In Arizona, google "pawn shop near me" and you will get recommendations for Pawn Now time and again. We have eight locations throughout the Phoenix Valley Area, and we buy and sell items ranging from gold and silver jewelry to handguns and current-generation electronics. If you are searching for a pawn loan, we're prepared to offer you competitive terms to help you get the money you need and back on your feet. Visit us in Arizona to see what we have to offer!
Published By:
Pawn Now
Pawn Now Phoenix – 85043
691 W. Baseline Rd.
Phoenix AZ 85043
Phone +1 602 276-1664
Pawn Now Phoenix – 85022
14601 N Cave Creek Rd.
Phoenix AZ 85022
Phone +1 602 765-4444
Pawn Now Phoenix – 85019
4135 W. Indian School Rd.
Phoenix AZ 85019
Phone +1 602 442-2160
Pawn Now Mesa – 85207
8151 E. Apache Trail‎
Mesa AZ 85207
Phone +1 480 964-6666
Pawn Now Mesa – 85210
1145 S. Mesa Dr.
Mesa AZ 85210
Phone +1 480 668-1009
Pawn Now Apache Junction – 85120
900 W. Apache Trail
Apache Junction AZ 85120
Phone +1 480 288-7296
Pawn Now Mesa – 85204
361 S. Lindsay Rd.
Mesa AZ 85204
Phone +1 480 777-7771
Pawn Now Scottsdale – 85257
7841 E. McDowell Rd.
Scottsdale AZ 85257
Phone +1 480 300-4653