The Difference Between a Pawn Shop and Thrift Stores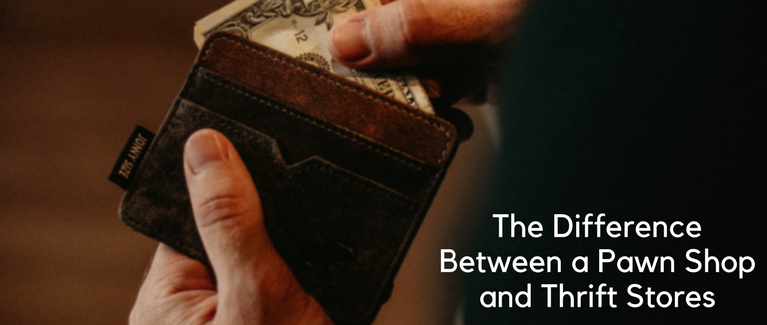 Thrift shopping was made cool again by a Seattle musician in recent times. We know that the Goodwill or Salvation Army are good places to search for treasures, but what about your local, Arizona pawn store? Which one to choose, though? That would depend on what you're looking for: some good priced jeans, some quick cash, or even a tax right off.
Thrift shops
These places are always full of unknown treasures, and a great place to find items to decorate your home, fill your closet, or even find the perfect 80s party outfit. They are great places, like Savers or Maggie's of Phoenix, to shop or just to browse, and who knows what you'll find.
Thrift stores are also great places to donate clothing, household items, and other goods that you may have lost use for, but may be useful to someone else. You can get a tax right off for the items donated, and use them on your tax return at the end of the year. It's a good deed, and gives a little break at the end of the year.
Consignment stores
There are consignment stores for almost anything nowadays. From places to consign your clothes, to jewelry, to furniture, if you have some time, but perhaps not the space, consigning your items could be a good idea.

You bring in your used goods, the store's buyer puts together a price list for what they will list your items for, and the store displays and sells them for you. The shop takes a percentage of the sale, and cuts you a check, or sometimes store credit, for the rest. This is a good option when you have some items that are still valuable, and you're not in a pinch to get money quickly. Usually, you'll have a contract with the shop to merchandise your items for a certain amount of time. After the contract ends, you can pick them up and attempt to sell them on your own, or some consignment shops will donate the items to charity.
Pawn Stores
AZ Pawn stores offer a couple options when you decide you need cash fast. The broker will examine your items, and decide how much the item would be worth, then decide how long the loan will be for and calculate the interest on it. They keep your items as collateral on the loan. If you don't return to claim your items and pay the debt, the pawn shop may elect to sell the item to collect on the loan, either in their store or even at a secondhand store. Some brokers may even elect to purchase the items outright instead of doing a collateral loan, and place them for sale immediately.
Buy, Sell and Pawn Silver Items | Pawn Now
The benefit of using a pawn shop is that the payout is immediate. There is no waiting period or hoping that someone will buy your items. This is especially beneficial to those are in need of immediate cash. Pawn shops are especially popular in towns like Las Vegas and New Orleans for this very reason. Gamblers who want to get in the game again can make a quick buck, and those shopping for a good deal can definitely find them in these local pawn stores.
Online Shopping

Another option would be posting your items online, on Craigslist, Ebay, or maybe the Facebook Marketplace, but that is its own gamble. Sometimes the items will go before you can respond to the first inquiry, and other times, you'll see little to no interest at all. Shopping online for used items is just as fickle. You may find exactly what you're looking for, and you can negotiate the price most times, or you could search for a while and come up empty. Choosing which selling or buying option that is right for you depends wholly on what your current needs are.
Which is Best?
If you're selling items and need cash quickly, AZ pawn shops are usually the easiest and quickest way to cash in. Consignment stores take time and patience, and are not the best way to turn a quick profit. Online selling is hit or miss, unless you're selling something that is always in high demand.
If you're a shopper, charity based thrift stores will offer a large variety, and a lower price, being that most of the items are donated. Pawn stores in Arizona may have more high priced items, and the items carried may be higher quality because of the nature of pawn shops. Consignment shops can often carry items in good, used shape, that have been deemed quality enough for resale. Depending on the area you search, you can find some very nice clothing and furniture at consignment stores.
No matter what you're in the market for, shopping at one of these three businesses is going to save you some cash, and it's usually a very entertaining process. Get out and explore your local Arizona pawn stores, whether you're in the market to shop or sell, you never know what you will find.
Published By:
Pawn Now Scottsdale – 85257
7841 E. McDowell Rd.
Scottsdale AZ 85257
Phone +1 480 300-4653
Pawn Now Phoenix – 85043
691 W. Baseline Rd.
Phoenix AZ 85043
Phone +1 602 276-1664
Pawn Now Phoenix – 85022
14601 N Cave Creek Rd.
Phoenix AZ 85022
Phone +1 602 765-4444
Pawn Now Phoenix – 85019
4135 W. Indian School Rd.
Phoenix AZ 85019
Phone +1 602 442-2160
Pawn Now Mesa – 85207
8151 E. Apache Trail‎
Mesa AZ 85207
Phone +1 480 964-6666
Pawn Now Mesa – 85210
1145 S. Mesa Dr.
Mesa AZ 85210
Phone +1 480 668-1009
Pawn Now Mesa – 85204
361 S. Lindsay Rd.
Mesa AZ 85204
Phone +1 480 777-7771
Pawn Now Apache Junction – 85120
900 W. Apache Trail
Apache Junction AZ 85120
Phone +1 480 288-7296