5 Things to Buy at an Arizona Pawn Shop
Shopping at a Phoenix, Arizona pawn store is one of the best ways to save money on the things you need. Whether you need something for your house or you are just looking to treat yourself with something nice, you can likely find it at your local pawn shop for a fraction of what you would pay retail – and you wouldn't be sacrificing on the quality. In fact, for some items, the quality can be better because the item can be collectible or vintage.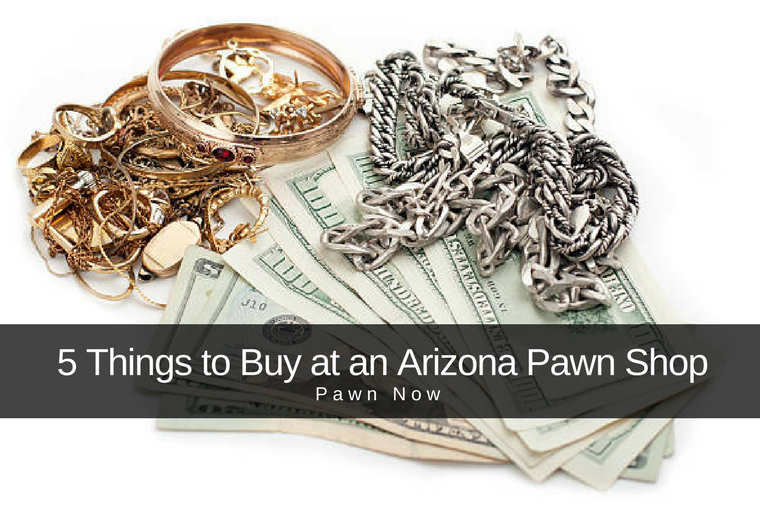 Exactly what's on offer depends on the pawn shop you visit. But here are the best 5 things you can typically buy at any Arizona paw store:
1. Video Game Systems
If you have kids, you probably feel like you are going to go broke trying to keep them in video games. Just as the novelty of one game system starts to wear off, a new game system is introduced for $300 or $400 a pop, and then you have to buy a bunch of games at about $60 a pop. Sometimes, the companies decide to compete and all put their must-have new gaming system out at the same time, and then your kids clamor to have all of them.
You don't have to choose between putting food on the table or letting your kids think that you're the evil parent who never wants them to be happy. You can still feel like you are giving your kids the finer things in life and save money by buying the video game system from the local pawn shop. In most cases, you can even get the system in the original box and with all the original accessories. Your kids don't have to know you bought it – gasp! – used, and you get to look like the hero while saving a lot of money.
2. Musical Instruments

Kids basically drain money faster than you can make it. One of the most expensive things they will do in their education is learn how to play a musical instrument. Most kids have to take band at one point or another, and some actually enjoy it and decide to play for a few more years. At a minimum, you'll have to buy that first instrument. But if your kid decides that music is his jam, you may need to buy many more upgrades over the years, as well as all the accoutrement, such as extra bows, mouth pieces, music stands, and so on.
Shop at a pawn store to save a bundle on all types of musical instruments. You'll be especially grateful if your kid is the type who changes obsessions with the wind, deciding this week that he really loves saxophone and then next week deciding he can't live without the guitar.
3. Jewelry

Treat your lady to fine jewelry and you'll be living on brownie points for life. Gift her with diamonds or gold for no particular reason at all and you'll take on mythic status. You don't have to roll like a baller to have it like that. You can find beautiful gold, silver, and diamond jewelry at a pawn store for much less than what you would pay at a fancy jewelry store.
The great thing about shopping for diamonds and gold jewelry at a pawn shop is that you don't have to worry about the quality. Diamonds, gold, and other precious metals and stones do not lose their value. In fact, they only appreciate. They are timeless in their quality. Gold and silver jewelry is also stamped to verify its value.
Arizona's Top pawned items | Pawn Now
4. Power Tools

You've got it in your head that you're going to be a weekend Bob Villa, but are you really? Or are you just going to pull out that power drill when the shelf falls off the wall in the laundry? There's no reason to spend a lot of money on fancy, new power tools if you are only an occasional hobbyist or emergency handyman.
Shop at a pawn store to find all kinds of power tools. You can get everything from a basic nail gun to a compound miter saw. There's no need to spend a lot of money on tools that you will only occasionally use.
5. Electronics

Technology is dead almost as soon as it comes out. So why spend Apple prices on items that you are only going to replace in another six months to a year when a newer model comes out or the technical support is no longer offered? Shop at a pawn store for things like laptops, camcorders, smart watches, phones, and more.
You can carry around high-tech gadgets to get your swag on without actually having to go deeper into your pocket.
Pawn shops in Phoenix offer a lot more great stuff at affordable prices. These are just some of the most popular items that you are likely to find in your local pawn shop and for which you are likely to get the best deals. Visit a pawn store near you and see what other treasures you can find.
Pawn Now offers all these great items and more at several locations in Arizona. Pawn Now buys and sells gold and silver jewelry and coins, precious stones, electronics, construction equipment, guns, music instruments, and more. We offer some of the best prices of any pawn shop in Arizona, whether you are buying or selling. Visit one of our nine Arizona locations to see what we have to offer!
Published By:
Pawn Now
Pawn Now Phoenix – 85043
691 W. Baseline Rd.
Phoenix AZ 85043
Phone +1 602 276-1664
Pawn Now Phoenix – 85022
14601 N Cave Creek Rd.
Phoenix AZ 85022
Phone +1 602 765-4444
Pawn Now Phoenix – 85019
4135 W. Indian School Rd.
Phoenix AZ 85019
Phone +1 602 442-2160
Pawn Now Mesa – 85207
8151 E. Apache Trail‎
Mesa AZ 85207
Phone +1 480 964-6666
Pawn Now Mesa – 85210
1145 S. Mesa Dr.
Mesa AZ 85210
Phone +1 480 668-1009
Pawn Now Apache Junction – 85120
900 W. Apache Trail
Apache Junction AZ 85120
Phone +1 480 288-7296
Pawn Now Mesa – 85204
361 S. Lindsay Rd.
Mesa AZ 85204
Phone +1 480 777-7771
Pawn Now Scottsdale – 85257
7841 E. McDowell Rd.
Scottsdale AZ 85257
Phone +1 480 300-4653