Caring For Your Jewelry To Get The Best Value At a Pawn Shop
How to ensure the integrity and value of your jewelry
Whether your jewelry is inherited, gifted, or purchased by you, you should learn how to care for it to extend its life and hold its value. Knowing how to care for your jewelry will be helpful no matter what your future plans are for each piece. You may want to pass your heirloom pieces down, or walk into a jewelry pawn store to sell it. If your plan is to sell it at a local pawn store sometime in the future, you will want to make sure you're bringing in a well-kept piece to get the most cash you can out of it. Jewelry pawn store will want to inspect each piece, and the level of care taken with the piece will determine the value its given by the appraiser.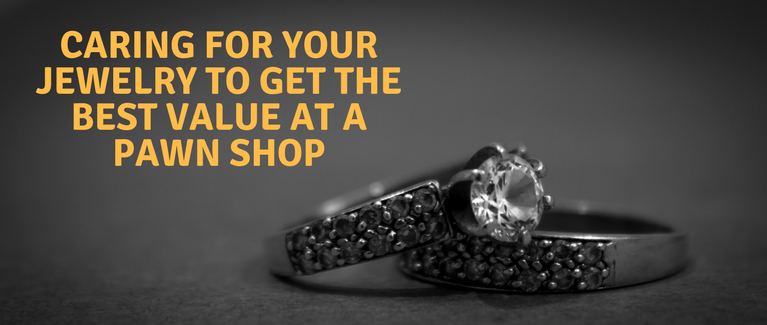 We will go over the most common situations most will encounter that could end in damage done to your jewelry and how you should treat your jewelry in each situation.
Chemical Exposure
Keep chemicals away from your jewelry. It's that simple. Whether you're going to clean the house using cleaners or changing the oil in your car, make sure to remove your valuable jewelry and keep it stored in a safe place before you start your tasks.
Other situations involving chemicals that you may not realize may damage your jewelry are when you're swimming in a pool or even taking a bath. When you're the pool, chlorine has the possibility to cause damage to your jewelry. During a bath, exposure to shampoos, conditioners and soaps have the potential to cause significant damage to the metals found in most jewelry. Your best bet is to keep your jewelry away from all chemicals, so to not inadvertently allow it to become damaged and/or less valuable.
Proper Cleaning
For the pieces of jewelry that you wear the most, regular cleanings are very important. You can get specialized jewelry cleaners at the store, but you don't necessarily need it. For regular cleaning, using warm water and a special jewelry polishing cloth will do. When cleaning your diamonds yourself, it is recommended that you get a soft bristled, non-metallic brush and gently scrub off any residue using warm water. For other types of precious jewels, the same is true, but first allow the jewels to soak in warm water first to soften or loosen any residue that may be on them. Pearls take a bit more caution when being cleaned at home. They should be soaked in warm, soapy water, but need a little extra care during cleaning, because they are much more delicate, thus easily damaged.
Apache Junction Pawn Shop | Pawn Now
You should, take your jewelry into a jewelry store on a regular schedule to have it cleaned and inspected to make sure that the prongs and jewels are securely fastened and working as intended. You can do regular cleanings at home, but you do want a professional to be able to look at your pieces, and clean them properly, to extend the life of each piece.
Proper Storage
As much emphasis as there is on how to handle each piece properly, how you store your jewelry is of significant importance as well. Storing each piece of jewelry correctly, avoiding overexposure to Arizona's year round UV rays, is vital. You may take good care to keep chemicals off your jewelry, and to make sure they're clean and sparkly, but you need to make sure to tuck them in at night as well. Keeping them in their original packaging could be a good idea. An even better idea is investing in a jewelry box that has padded slots for each, individual piece you have. Clutter inside a jewelry box can allow some pieces to scratch others, and can leave a tangled mess of necklaces and earrings. Don't spend all that time keeping them clean and safe when they're visible, then neglect them when they're not being showcased in public.
Make sure to care for your jewelry as well as you can, so that when the value is assessed, whether for pawning or insuring purposes, you get the greatest value out of each piece that you can. If you are in the market for a Apache Junction jewelry pawn store, we would like to be given the opportunity to appraise your valuable jewelry. You can walk into any of our East Valley locations or give us a call at 480-668-1009. At your Arizona Pawn Now, we will give you a fair assessment and a fair price for your jewelry pieces.
Published By:
Pawn Now
Pawn Now Phoenix – 85043
691 W. Baseline Rd.
Phoenix AZ 85043
Phone +1 602 276-1664
Pawn Now Phoenix – 85022
14601 N Cave Creek Rd.
Phoenix AZ 85022
Phone +1 602 765-4444
Pawn Now Phoenix – 85019
4135 W. Indian School Rd.
Phoenix AZ 85019
Phone +1 602 442-2160
Pawn Now Mesa – 85207
8151 E. Apache Trail‎
Mesa AZ 85207
Phone +1 480 964-6666
Pawn Now Mesa – 85210
1145 S. Mesa Dr.
Mesa AZ 85210
Phone +1 480 668-1009
Pawn Now Apache Junction – 85120
900 W. Apache Trail
Apache Junction AZ 85120
Phone +1 480 288-7296
Pawn Now Mesa – 85204
361 S. Lindsay Rd.
Mesa AZ 85204
Phone +1 480 777-7771
Pawn Now Scottsdale – 85257
7841 E. McDowell Rd.
Scottsdale AZ 85257
Phone +1 480 300-4653[/fusion_builder_column][/fusion_builder_row][/fusion_builder_container]