Why a Pawn Loan is Within Your Best Interest
Times continue to be tight for a lot of people. Even though we aren't dealing with the same conditions as we were during the recession, the economy just hasn't bounced back the way we hoped. Wages aren't keeping up with inflation, and interest rates aren't as low as they could be. Many of us struggle to find the money we need when the air conditioner goes out or the car needs a new transmission. There are only so many hours in the day, so simply working more isn't a viable solution.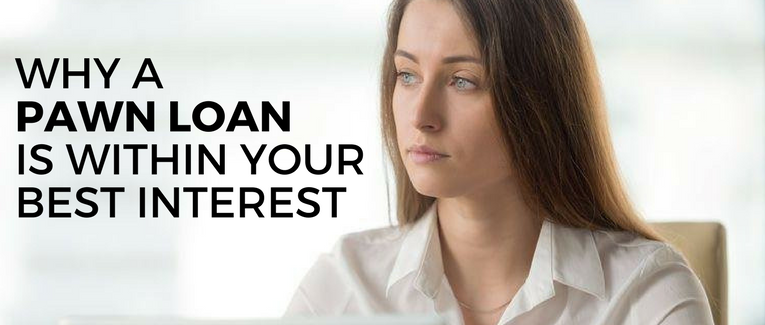 However, a pawn loan in Mesa offer is a viable solution for many. You can take the items you have to a local pawn store and use them as collateral for the loan. The amount you get depends on the value of the items, and the pawn shop keeps the items in secure storage while you pay back the loan. When you are done paying off the loan, you get your belongings back safe and sound.
Here are a few reasons why a pawn loan might be the best option for you:
Benefits of Pawning

There are many benefits of getting a pawn loan compared to a traditional loan or other types of financing.
To start, you don't have to meet any requirements to get a pawn loan. You don't have to have good credit or references. In fact, the Mesa pawn shop isn't going to check your credit or your income at all. The only thing the pawn shop is concerned with is how much it can sell your valuables for if you default on the loan. Of course, this is not the goal of the pawn shop – but it does provide assurance against loss if you default on the loan, the same way that banks are assured by your good credit for a traditional loan.
You can get the money you need the same day with a pawn loan. In contrast, you could wait days or weeks for other types of financing to come through, including a personal loan. Therefore, if you have some problem that needs to be taken care of right now – such as paying your car loan so your vehicle is not repossessed or paying for a new air conditioner so you don't wind up in the hospital after being exposed to the heat of the Arizona summer – a pawn loan is the best choice.
If you have trouble paying back the pawn loan, you can extend it without penalty. There are no risks to the pawn shop because it makes money from the interest you pay and it has your belongings as collateral. Therefore, you can extend the terms as long as you need to without having to pay extra money and without fear of losing your items.
Finally, pawning your items is a much better choice than selling your items because you get to keep them in the long run. Sure, you can probably get a pretty penny selling your grandmother's pearl earrings, but you also don't want those leaving your family. Instead, you can tap into the value of those earrings without worrying about losing the family heirlooms.
List of Items You Can Pawn

The list of items you can pawn varies according to what your local Mesa pawn store will take. Some shops will take just about everything under the sun, and others only take the big-ticket items. However, you can be reasonably certain that your local pawn store will give you a pawn loan for:
Gold and silver jewelry or coins
Diamond jewelry
Other precious metals or stones
Guns of all kinds
Musical instruments
Electronics (usually only current technology)
Construction equipment, including personal power tools
Arizona's Top pawned items | Pawn Now
Some of these items are valued at current market positions, such as gold and silver, but most of them are valued at current market demands. Therefore, if people are paying a lot for flutes right now because band season is just starting up, you're likely to get more for your flute.
The best way to know for sure how much you can get for your pawn loan is to visit your local pawn store for an appraisal. You may be surprised at how affordable a pawn loan can be and how much it can help you meet your financial goals.
Pawn Now buys all of the items listed above and gives top dollar for our pawn loans. We have several locations in Arizona to make it convenient for people to get the money they need, no matter the financial emergency. Visit our website to learn more about the items we buy and sell or to find a location to meet with someone in person to discuss a pawn loan.
Published By:
Pawn Now
Pawn Now Phoenix – 85043
691 W. Baseline Rd.
Phoenix AZ 85043
Phone +1 602 276-1664
Pawn Now Phoenix – 85022
14601 N Cave Creek Rd.
Phoenix AZ 85022
Phone +1 602 765-4444
Pawn Now Phoenix – 85019
4135 W. Indian School Rd.
Phoenix AZ 85019
Phone +1 602 442-2160
Pawn Now Mesa – 85207
8151 E. Apache Trail‎
Mesa AZ 85207
Phone +1 480 964-6666
Pawn Now Mesa – 85210
1145 S. Mesa Dr.
Mesa AZ 85210
Phone +1 480 668-1009
Pawn Now Apache Junction – 85120
900 W. Apache Trail
Apache Junction AZ 85120
Phone +1 480 288-7296
Pawn Now Mesa – 85204
361 S. Lindsay Rd.
Mesa AZ 85204
Phone +1 480 777-7771
Pawn Now Scottsdale – 85257
7841 E. McDowell Rd.
Scottsdale AZ 85257
Phone +1 480 300-4653