Getting Rid of Unwanted Items: Should You Pawn or Donate?
Most people have extra thing lying around, or packed into boxes, that we don't need anymore. We would love to be able to get rid of it, but aren't quite sure what the best way to go about it is.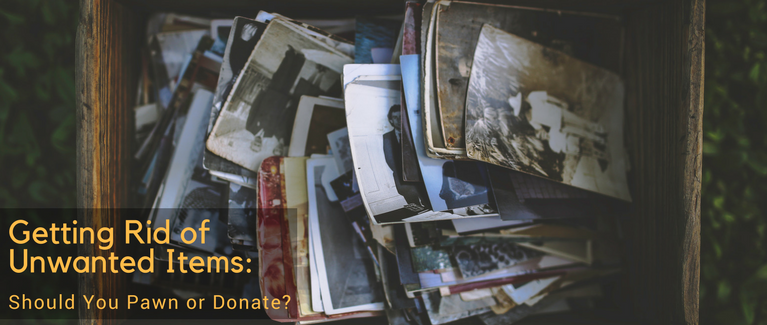 Depending on the type of items there are, some avenues offer more financial sense than others. In this day and age, there are so many ways to get rid of items that still have life for someone else, but no longer serve a purpose for us. There is eBay, Facebook, Craigslist, pawn shops, donations, or even a garage sale. Trying to figure out what works best for you depends on what you're hoping to get out of it and how much time you're wanting to commit to the process. Here are several ways to get rid of the valuable and useful items in your home.
Reselling
If you have some items that you think you could turn into a good financial return, reselling may be your best option. You can find a plethora of online marketplaces to sell these items on. From Craigslist to eBay to the new Facebook Marketplace, you can find the right place to list your unwanted items.
For online retailers like eBay, smaller items that are more easily shipped are good for this marketplace. For more cumbersome or larger items, places like Craigslist and Facebook are good places to try to sell. This way, you won't have to worry about shipping or other methods of delivery.
When you're trying to decide on a price, make sure to check out items similar to the ones you're selling and see what they've been selling for. You should expect to sell them for 30-60% of the retail value.
The downfall of online resale sites like eBay are the fees that they charge for those who list more than 50 items per month. There is always a sales fee based on the final sale price of the item, which in most categories is about 10% of the final value. On top of that, if PayPal is used, there are additional fees added for that service as well.
Listing times and mailing or delivery times can offer a large time commitment, depending on the market for the items you're listing and popularity of the items. Other factors are the time of year and current market saturation for these items. For instance, a bicycle trailer may sell quicker and for a better price when the weather allows for a longer riding season, but several others may have the same idea of listing at that time. Trying to sell that same item during an Arizona summer may have people questioning your sanity, but the market should be less competitive.
Donate to Charity
It always feels good to do something nice for others, and there is sometimes an added bonus in the form of a tax deduction. However, the only way you get to reap the reward of a tax deduction from a charitable donation is if you itemize your deductions. New tax legislation has just been signed into law, changing the standard deductions. Check out the IRS website to see what the new deductions are, and whether or not your charitable donations will exceed that amount.
To qualify as a charitable donation, the following are some factors that must be met:
It must be made to a 501(c)3 nonprofit organization
You must receive a receipt totaling the value of the donation
Some places that usually fall under these guidelines are:
Churches
Government sponsored charities
Religious organizations
Goodwill
Salvation Army
The American Red Cross
One more thing to consider is the working order the items are in. The IRS does specify that the items donated must be in good working condition for them to qualify for a deduction. You cannot, and really shouldn't, use charitable organizations to dump items you couldn't find a buyer for, and don't want to pay to take to the dump.
The value of these items is estimated, and should represent a fair market price. In other words, you should estimate the item's value to be that which you would purchase it for as a resale item. If you have any items that you value over $500, you will need to include a professional appraisal with your tax return. An appraisal will also be required if you have a total donation of over $5000.
Pawn Shop in Chandler Arizona 85225 | Pawn Now
The time commitment for donations varies depending on the types of items you're trying to donate. For larger items, make sure to call ahead and make sure that the charity you're trying to donate to has the capacity to receive them. Some charities even offer a pick-up service for larger items, so ask about that as well. Depending on the value of what you're trying to donate, you may also need to wait for a professional appraisal for your records as well.
Local Pawn Shop
This is probably the quickest way to get rid of the items you no longer need and get the fastest cash return. Pawn brokers near Chandler are often in the market for a variety of items, from jewelry to instruments to electronics.
You have a very good chance of finding a Chandler pawn broker willing to pay for your valuable items quicker than they would sell online. The price may be a little lower than what you may get online, but the wait time is also much less.
Unless you find a pawn shop near Chandler that only specializes in a particular type of merchandise, you have a good chance of finding a local pawn broker who will take multiple items from several different categories.
Your time investment when using a Chandler pawn shop is more than likely going to be significantly less than trying to sell online, and even less involved than holding a garage sale. In the age of instant gratification, the pawn broker is your best bud.
We hope that when you go to offload some valuable or unique items, you consider bringing them into one of the many locations across the Valley that Pawn Now offers. We would love the opportunity to turns your unwanted items into cash. Give us a call today at 480-668-1009.
Published By:
Pawn Now Scottsdale – 85257
7841 E. McDowell Rd.
Scottsdale AZ 85257
Phone +1 480 300-4653
Pawn Now Phoenix – 85043
691 W. Baseline Rd.
Phoenix AZ 85043
Phone +1 602 276-1664
Pawn Now Phoenix – 85022
14601 N Cave Creek Rd.
Phoenix AZ 85022
Phone +1 602 765-4444
Pawn Now Phoenix – 85019
4135 W. Indian School Rd.
Phoenix AZ 85019
Phone +1 602 442-2160
Pawn Now Mesa – 85207
8151 E. Apache Trail‎
Mesa AZ 85207
Phone +1 480 964-6666
Pawn Now Mesa – 85210
1145 S. Mesa Dr.
Mesa AZ 85210
Phone +1 480 668-1009
Pawn Now Mesa – 85204
361 S. Lindsay Rd.
Mesa AZ 85204
Phone +1 480 777-7771
Pawn Now Apache Junction – 85120
900 W. Apache Trail
Apache Junction AZ 85120
Phone +1 480 288-7296