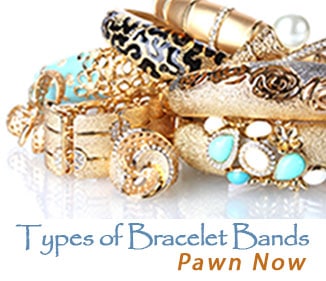 Bracelets are a versatile style accessory that can be worn with any outfit and look. One of the reasons bracelets are so popular is because the bracelet bands come in every shape and size, in many kinds of materials, with or without gemstones. The sheer variety of bracelets makes it easy for the wearer to express their personal style.
The jewelry industry commonly makes bands from precious or semi-precious metals. Some of the most frequently used band types include:
Traditional Gold – Traditional yellow gold remains one of the most popular metals used to make band types in bracelets. Typically gold bands are in the range of 14K to 18K gold.
White Gold – White gold continues to be popular since many prefer it to yellow gold.
Rose Gold – Rose gold is yet another popular variety of gold. This style is associated with romance and is often given for Valentine's Day, birthdays or special occasions.
Platinum – Platinum is a luxury material that is more durable than gold, and also less likely to tarnish. It is also the alternative for people who have a gold allergy.
Silver – Silver is another popular material, especially for people who don't like gold. Silver is not as expensive as platinum or gold. It can be given an antique look with intentional tarnishing.
Stainless Steel – Stainless steel is the least expensive metal featured in bracelets. It is also durable enough to withstand daily wear.
You can find all of these band types at Pawn Now, Your Local Arizona Jewelry Pawn Shop
Jewelry Gemstones
Gemstone-encrusted bracelets are very popular as gifts or commemorations of an important event. There is a gemstone for any budget, taste, style or occasion.
One of the most iconic kinds of bracelets is the tennis bracelet, which consists of diamonds in a uniform line. They are typically unadorned with charms or other elaborate styles.
Pearl bracelets add an elegance to any outfit. Pearls may be freshwater or farm-cultivated and come in various size and quality. There are black pearls, pink pearls and pearls in many other colors.
Bracelet Clasps
Although it is possible to classify bracelets by their clasps, most people think of bracelets according to their gemstone or band material first. However, bracelet designers use many different kinds of clasps, and as anyone who has worn bracelets can attest, the clasp winds up being very important to the wearer.
The most common clasp types include:
Lobster – The lobster features a retractable side hook that closes around a small loop.
Hidden – Many designers use hidden clasps because they blend in and are not visible with a casual glance.
Safety – A safety clasp uses more than one function to close the bracelet. Safety clasps are found often in high-end or antique bracelets.
Box – A box clasp uses a metal prong to slide into a box-shaped decorative piece, which then latches.
Box and Safety – The box and safety style clasp is a very secure clasp which combines the box clasp with the safety feature.
Toggle – The toggle clasp features a T-shaped bar, which is inserted into a ring or loop, which then rotates, locking the loop around the bar. This style of clasp is often used in chain and charm bracelets.
The band materials, gemstones and clasps discussed in this article are only a starting point for selecting a bracelet that is beautiful and stylish. There are always new options. The most important thing for the wearer is that the bracelet appeals to their individual taste. If you are excited about a bracelet and can't wait to put it around your wrist, then you know that's the best bracelet for you.
Published By:
Pawn Now
Pawn Now Phoenix – 85043
691 W. Baseline Rd.
Phoenix AZ 85043
Phone +1 602 276-1664
Pawn Now Phoenix – 85022
14601 N Cave Creek Rd.
Phoenix AZ 85022
Phone +1 602 765-4444
Pawn Now Phoenix – 85019
4135 W. Indian School Rd.
Phoenix AZ 85019
Phone +1 602 442-2160
Pawn Now Mesa – 85207
8151 E. Apache Trail‎
Mesa AZ 85207
Phone +1 480 964-6666
Pawn Now Mesa – 85210
1145 S. Mesa Dr.
Mesa AZ 85210
Phone +1 480 668-1009
Pawn Now Chandler – 85225
1731 N. Arizona Ave.
Chandler AZ 85225
Phone +1 480 821-7296
Pawn Now Apache Junction – 85120
900 W. Apache Trail
Apache Junction AZ 85120
Phone +1 480 288-7296
Pawn Now Mesa – 85204
361 S. Lindsay Rd.
Mesa AZ 85204
Phone +1 480 777-7771
Pawn Now Scottsdale – 85257
7841 E. McDowell Rd.
Scottsdale AZ 85257
Phone +1 480 300-4653