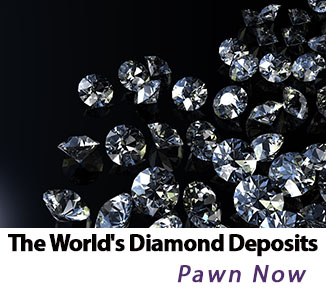 India was once the world's only source of diamonds. Then in the 1700s, diamond deposits were discovered in Brazil. By the late 1800s, the game changed completely when South Africa's primary deposits were uncovered, which was an enormous find at the time. Exploration technology has evolved to the point where diamond deposits are now found all over the world, including some promising new deposits in Canada, which were unearthed in the late 20th century. These developments have ensured that the diamond supply will keep up with demand for years to come.
SOUTH AMERICA
In around 1730, Brazil became the world's biggest source of diamonds. When production started in South Africa in 1870, Brazil was displaced. Brazil's tropical climate created centuries of water erosion which uncovered most of its diamond pipes and washed away their surface indications. Today Brazil is mined mostly by individuals or small groups.
AFRICA
Africa is teeming with diamonds. The continent has a huge range of geographic features, and underlying them all are several archons, which are the oldest and most potentially diamondiferous of geologic structures. This is why Africa has become legendary in the diamond industry. Even the marine deposits are plentiful and promising for future exploration.
SOUTH AFRICA
When diamonds were initially found in South Africa they came from alluvial sources. Then major diamond pipes were unearthed, creating a surge in diamond production. The combined production once accounted for about 95% of total world production. Although South Africa is no longer the world's leading producer of diamonds, it remains important to this day.
WEST AND EAST AFRICA
West Africa contains mostly alluvial diamond deposits. In Sierra Leone, diamonds are found everywhere and most of them are gem quality. In Guinea, diamonds are found in the tropical rainforests. Ghana's diamonds are mostly quite small, making about 90% industrial grade.
In the eastern country of Tanzania, serious production at Mwadui started in 1945. Although most of the richer sections were mined out by the mid-1990s, the mine is once again producing diamonds, with more than half the output gem quality.
RUSSIA
Over 98% of Russia's diamond production comes from the Siberian republic of Sakha. Russia is second only to Botswana in terms of production value. The Siberian diamond fields could well be the toughest in the world. Sakha is remote and sparsely populated. The climate is very cold, with annual temperature variations from -65 degrees Celsius in the winter to 35 degrees Celsius in the summer.
AUSTRALIA
Alluvial diamonds had appeared Australia since the 19th century but in isolated quantities. In the 1970s exploration centered on the Kimberley Plateau of Western Australia. After years of exploration, geologists found the Argyle AK1 lamproite pipe. The Argyle mine was first operated as an open pit and then converted to an underground operation by the end of the 20th century.
Argyle was a unique mine because it was the first commercially important primary deposit found in a rock other than kimberlite. The Argyle mine has reached production that no other mine has approached in terms of weight. Most of Argyle's diamonds are small in size, averaging only about 0.08ct. Production is divided between cuttable and industrial. Argyle is very important as a world producer of industrial diamonds.
Of Argyle's cuttable stones, only around 5% are gem-quality. The rest of the diamonds are near-gem. The overwhelming majority of the diamonds are brown and yellow. There are other high-quality colors, such as pink diamonds, that are mined from Argyle.
The world's diamond supply is strong. New and evolving technology will continue to find geologic formations and new ways to mine them.
Visit Pawn Now for all of your Arizona Diamond needs, from pawns to purchases and sales.
Published By:
Pawn Now
Pawn Now Phoenix – 85043
691 W. Baseline Rd.
Phoenix AZ 85043
Phone +1 602 276-1664
Pawn Now Phoenix – 85022
14601 N Cave Creek Rd.
Phoenix AZ 85022
Phone +1 602 765-4444
Pawn Now Phoenix – 85019
4135 W. Indian School Rd.
Phoenix AZ 85019
Phone +1 602 442-2160
Pawn Now Mesa – 85207
8151 E. Apache Trail‎
Mesa AZ 85207
Phone +1 480 964-6666
Pawn Now Mesa – 85210
1145 S. Mesa Dr.
Mesa AZ 85210
Phone +1 480 668-1009
Pawn Now Chandler – 85225
1731 N. Arizona Ave.
Chandler AZ 85225
Phone +1 480 821-7296
Pawn Now Apache Junction – 85120
900 W. Apache Trail
Apache Junction AZ 85120
Phone +1 480 288-7296
Pawn Now Mesa – 85204
361 S. Lindsay Rd.
Mesa AZ 85204
Phone +1 480 777-7771
Pawn Now Scottsdale – 85257
7841 E. McDowell Rd.
Scottsdale AZ 85257
Phone +1 480 300-4653