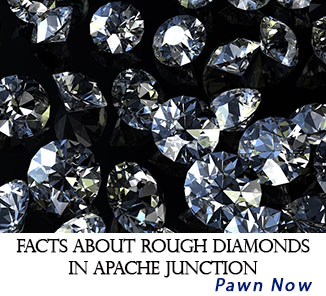 The term "rough diamonds" applies to diamonds that are in their natural form, without being cut or polished. They would look more like a small lump of crystal than a brilliant shining diamond in a store. Diamonds in their natural state are found in shapes like a cube, an octahedron, or dodechedron. Some diamonds have even been found in the shape of a hexoctahedron, however, they are most often found in an octahedron shape. Diamonds also come in a shape known as a macle. These shapes can best be described as two pyramids that have been glued together. They are extremely difficult to cut. Most rough diamonds in the shape of a cube are unlikely to be satisfactory jewelry quality. You can not see through a rough diamond and they will not have the same shine when held to light. If you were to come across a natural diamond, you probably not recognize it, unless you had seen a picture for reference.  Some of these rough diamonds can be found at your local AZ diamond pawn store.
Diamonds are believed to have been objects of trade as far as back fourth century B.C. Many diamonds in these days were found in India, and were prized by Europeans who purchased or traded for them along the Silk Road. However, India's supplies dwindled, and Brazil rose as a leader in the diamond trade. Diamonds were used in a number of ways, such as a cutting tool. The stones were found in riverbeds, and individuals of noble birth love to wear them. They found their use in battle as decoration on breast plates and as talismans to ward off bad spirits. Eventually they would be used by royalty to show their wealth with diamond-studded crowns, tiaras and pendants.
In 1866, Dutch teenager Erasmus Jacobs uncovered a 21.25-carat diamond in the banks of the Orange River. He was looking for pretty stones to play with, and he gave the stone to a neighbor, who had it confirmed by a mineralogist as a diamond; the diamond was named Eureka. The diamond is on display today at the Kimberley Mine Museum in South Africa. Later diamonds were found away from the river in volcanic pipes. The biggest diamond mine was named "The Kimberly Mine." The diamond race in South Africa was on, and though many profited from the practice, De Beers had control of 90% of the world's rough diamond mining by 1900.
Canada's Northwest Territories entered the diamond rush in the 1990's, when a miner found the first diamond that could be confirmed after many unsubstantiated reports throughout history had occurred. The Ektaki mine opened in 1998 about 200 miles northeast of the town of Yellowknife and produces around $600 million in diamonds annually. With many concerned about "conflict diamonds," Canada provides lets jewelers buy diamonds without worrying about human rights violations.
Canada isn't the only location in North America where diamonds are found. In 1982, diamonds were found in the Crooked Creek when miner Jim Regan uncovered a .03 carat diamond. In Arkansas, you can visit Crater of Diamonds State Park, and search for diamonds. The park is the only diamond mining area open to the public.
Diamonds have been found in all sizes and weights. The biggest rough diamond ever located is the Cullinan Diamond, named after the mine where it was found. It weighed 1 ⅓ lb or 3,106.75 carats. It was cut into nine pieces, and several of the pieces were used in royal items such as the Imperial State Crown of Elizabeth II. The second diamond ever found was named the Excelsior diamond and it weighed 995.20 carats.
If you are looking to sell your diamonds call Pawn Mesa for a free quote on your pawn diamonds.
Published By:
Pawn Now
Pawn Now Phoenix – 85043
691 W. Baseline Rd.
Phoenix AZ 85043
Phone +1 602 276-1664
Pawn Now Phoenix – 85022
14601 N Cave Creek Rd.
Phoenix AZ 85022
Phone +1 602 765-4444
Pawn Now Phoenix – 85019
4135 W. Indian School Rd.
Phoenix AZ 85019
Phone +1 602 442-2160
Pawn Now Mesa – 85207
8151 E. Apache Trail‎
Mesa AZ 85207
Phone +1 480 964-6666
Pawn Now Mesa – 85210
1145 S. Mesa Dr.
Mesa AZ 85210
Phone +1 480 668-1009
Pawn Now Chandler – 85225
1731 N. Arizona Ave.
Chandler AZ 85225
Phone +1 480 821-7296
Pawn Now Apache Junction – 85120
900 W. Apache Trail
Apache Junction AZ 85120
Phone +1 480 288-7296
Pawn Now Mesa – 85204
361 S. Lindsay Rd.
Mesa AZ 85204
Phone +1 480 777-7771
Pawn Now Scottsdale – 85257
7841 E. McDowell Rd.
Scottsdale AZ 85257
Phone +1 480 300-4653