GIA Diamond Grading Reports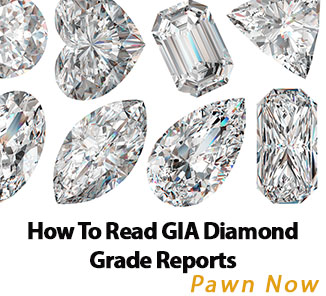 The Gemological Institute of America provides reports for grading diamonds. These reports are a treasure trove of information about every aspect regarding these precious stones. The purpose of providing these grading reports is to keep the customer informed and help him or her better and informed choices while purchasing large-quantity diamonds. Grading reports are provided for diamonds which are over and above one carat. The advantage is that consumers can request for information even about micro-inscriptions or laser inscriptions on the diamonds and it is provided. The only limitation is that these reports do not imply certification of the quality of diamonds. They are mere information providers.
The GIA also gives a second option in the form of Diamond Dossier reports. These reports are usually generated by the institute for diamonds below one carat. This comes at no additional costs. As this is the case, it is economically advantageous and beneficial for the consumer.
Each report is a combination of various factors about diamonds. Firstly, a report number is provided. It is a specialized number that is attached to each diamond and is universally part of the GIA database. Diamonds are also cut and shaped by various processes and in different styles. The report contains information about these procedures as well. Apart from their weight, diamonds vary in their size, on the dimensions of length as well as depth. These also find their way to the GIA grading report.
The GIA diamond dossier is usually issued for diamonds under one carat and it provides information similar to the grading report. Unlike grading report that levies extra for laser inscription registry, the diamond dossier provides it free of charge. Thus details of the GIA report number micro-laser inscribed on the diamond at the buyer's request.
Important limitations regarding the report are given at the back. The GIA diamond dossier with cut grade can also be availed of. Diamonds also differ from each other in terms of culet size, finish, color, clarity and fluorescence. Color grading is important as it helps in deciphering the quality of diamonds. Diamonds range from colorless, white to yellow and grey. The report also provides a graphic representation in terms of these characteristics as well as a diagram of its proportions. These graphics can be interpreted with the help of a key.
If you want to procure a grading report from GIA, you should be least bit worried about security issues. The GIA reports are authentic and each certificate carries the institute's seal which cannot be duplicated however hard one may try.
Details about colored diamonds are contained in the form of a special report which can be requested for. GIA reports are beneficial for large-scale buyers because they also provide reports for many other precious and semi-precious stones, apart from diamonds. Graded reports can be availed for rubies, emeralds, sapphires and a plethora of other gemstones. And bear in mind that the GIA grades diamonds only when sent in loose and not as mounted diamonds.
Stop by our local Chandler pawn shop to speak with our expert brokers for more information about GIA diamond grading reports!
Published By:
Pawn Now
Pawn Now Phoenix – 85043
691 W. Baseline Rd.
Phoenix AZ 85043
Phone +1 602 276-1664
Pawn Now Phoenix – 85022
14601 N Cave Creek Rd.
Phoenix AZ 85022
Phone +1 602 765-4444
Pawn Now Phoenix – 85019
4135 W. Indian School Rd.
Phoenix AZ 85019
Phone +1 602 442-2160
Pawn Now Mesa – 85207
8151 E. Apache Trail‎
Mesa AZ 85207
Phone +1 480 964-6666
Pawn Now Mesa – 85210
1145 S. Mesa Dr.
Mesa AZ 85210
Phone +1 480 668-1009
Pawn Now Chandler – 85225
1731 N. Arizona Ave.
Chandler AZ 85225
Phone +1 480 821-7296
Pawn Now Apache Junction – 85120
900 W. Apache Trail
Apache Junction AZ 85120
Phone +1 480 288-7296
Pawn Now Mesa – 85204
361 S. Lindsay Rd.
Mesa AZ 85204
Phone +1 480 777-7771
Pawn Now Scottsdale – 85257
7841 E. McDowell Rd.
Scottsdale AZ 85257
Phone +1 480 300-4653