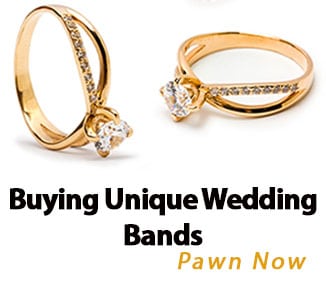 You have decided to tie the knot with that special someone and the next logical step is to decide on the all-important Arizona jewelry item — the wedding band. So you have browsed through several Phoenix stores searching for the perfect wedding band looking for something unique that will make you and your partner stand out as opposed to the normal run of the mill ones that everyone seems to be sporting. Take a look at how to go about this process in the best manner possible.
A beautiful option for wedding bands is getting them custom made by a Phoenix jeweler or purchasing privately owned jewelry at a discounted price from your local Arizona Pawn Stores. You could either select a theme that is of relevance to the both of you or opt for a style and design that you both appreciate. A few highlights to keep in mind before selecting a custom band are that the said band ought to be one that is in sync with your tastes and lifestyle so that not only does it enhance your overall look but also serve as a style statement. Also, make sure that the jeweler who creates your band disposes of the mold so that you are guaranteed a one of a kind set.
Instead of going in for one solid metal, you can choose from among various amalgamations of metals such as the trending titanium which is becoming popular thanks to its stainless texture. Other exotic and not so common metals such as white gold, platinum, gold, sterling, and various other mixes like these can be used in the creation of your wedding band.
A trending fad today is that of Celtic bands which look beautiful in the various kinds of celtic knots that they come in. Not only are celtic bands stunning works of art, but they also have a lot of historic significance attached to them and that is what makes them unique. Dragon bands are one of the most in demand celtic bands out there.
Engraving on the bands is another way to make a bold fashion statement. While previously they were done in a more subtle fashion only inside the rings, nowadays couples are opting to show off their love by engraving words precious to them on the exterior as well. Moreover, the boring old clichés such as 'I Love You' or the wedding date being engraved are becoming passé and couples are getting more innovative by asking their jewelers to engrave words and sentences that hold meaning for them and come straight from their hearts. Some of these unique and trending inscriptions that you can consider are: Amor VIncit Omia
[Meaning 'Love conquers all' in Latin], Now & Forever, From now on till forever and so on.
For couples who wish to add a sense of humor and lighthearted fun to their wedding bands, inscriptions that may work are: Nonrefundable, All sales final, I can't return him/her I lost the manual. You can also try something like getting your wedding date engraved alongside your initials, the title of your wedding song, the title of your favorite song as a couple, 'My best friend', 'Love is Eternal' and such other sayings. Symbols give a nice touch to the wedding bands as well as make them look simpler.
Another option would be to stop by our Phoenix pawn shop to browse our inventory of wedding bands!
Published By:
Pawn Now
Pawn Now Phoenix – 85043
691 W. Baseline Rd.
Phoenix AZ 85043
Phone +1 602 276-1664
Pawn Now Phoenix – 85022
14601 N Cave Creek Rd.
Phoenix AZ 85022
Phone +1 602 765-4444
Pawn Now Phoenix – 85019
4135 W. Indian School Rd.
Phoenix AZ 85019
Phone +1 602 442-2160
Pawn Now Mesa – 85207
8151 E. Apache Trail‎
Mesa AZ 85207
Phone +1 480 964-6666
Pawn Now Mesa – 85210
1145 S. Mesa Dr.
Mesa AZ 85210
Phone +1 480 668-1009
Pawn Now Chandler – 85225
1731 N. Arizona Ave.
Chandler AZ 85225
Phone +1 480 821-7296
Pawn Now Apache Junction – 85120
900 W. Apache Trail
Apache Junction AZ 85120
Phone +1 480 288-7296
Pawn Now Mesa – 85204
361 S. Lindsay Rd.
Mesa AZ 85204
Phone +1 480 777-7771
Pawn Now Scottsdale – 85257
7841 E. McDowell Rd.
Scottsdale AZ 85257
Phone +1 480 300-4653