How to Properly Pawn Your Jewelry
Pawning your jewelry is a great way to get some of the money you need for a financial emergency without having to give up your precious valuables. The jewelry is just used as collateral for the loan, and it is returned to you when the terms of the loan are satisfied.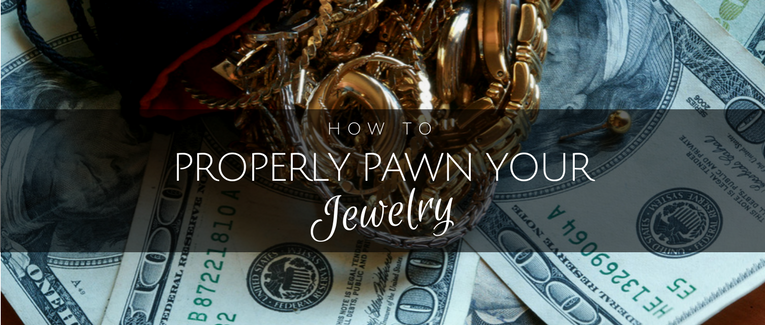 Many people are intimidated by the pawn process because they don't understand it or because they have misinformation. By getting the facts, you can maximize the money you receive and gain access to a valuable financial resource. Here's what you need to know if you want to pawn jewelry in Arizona:
The Pawn Process

Bring your jewelry to a local Scottsdale pawn shop for evaluation. The representatives there will examine your jewelry for things such as the number of carats in the diamond, the type of gold or other precious metal, any other stones in the jewelry, and characteristics. If the jewelry is a rare or highly valuable piece, you may be asked to provide documentation authenticating it or your ownership.
An experienced pawn store representative will give you an offer for the jewelry based on the appraised value. This offer can vary widely based on a number of factors. For example, if you are pawning gold jewelry, the offer will be determined by the price of gold on the markets in that time frame. Therefore, you may get a different offer on another day or even from another pawn store.
If you agree to pawn your jewelry for the amount offered, you will hand over your jewelry for safekeeping by the shop. Your jewelry will be kept in a safe or other secure storage for the duration of your loan. You will then sign paperwork that outlines the terms of your pawn loan, including the amount, the duration, the interest, and the fees.
Choosing the Right Jewelry to Pawn

A jewelry pawn store is going to pay the best prices for the best jewelry. You can't expect to bring in your fashion jewelry or your tiny diamond and get a lot of money.
Jewelry that has a high gold carat, that is sterling silver, or that contains large diamonds or other precious stones (such as sapphire, ruby, emerald) will get the best offers. If you aren't sure if your jewelry is the real deal, you can always just go ahead and bring it down to the pawn shop for evaluation.
In addition to considering the quality of the jewelry to pawn, you should also consider the artistry. Pieces that are on trend, that are created by known designers, or that are part of a limited run will also have more value. Antique or vintage pieces may also be more valuable, depending on other factors such as quality and design.
Getting the Best Prices

Just like with any transaction, you'll want to shop around to make sure you get the best deal. Visit several pawn stores or even a pawn show where multiple dealers are present to get multiple offers for your jewelry. Just know that if you are dealing with something like gold, you will need to move quickly. Fluctuations in the market can significantly change the offers you get.
You can watch the markets yourself to time your visit to the pawn shops also. When you see that gold is at a high, go ahead and bring your valuables down to your local jewelry pawn shop to get an offer.
Shine up your jewelry so that it's in the best shape, and share any stories about yourself or the jewelry that are pertinent. You never know when a pawn shop owner will sweeten the deal a bit because the jewelry has a storied history or because you are in a financial bind.
Know that the highest offer is not always the best one. You also need to consider the terms of the loan. You may be getting more money up front, but if you are paying an outrageous interest rate, you will be paying back more money, resulting in a net loss.
Paying Back the Loan

Many pawn loans in Arizona are made for a three-month term. You can pay back the amount monthly, or you can pay it all off at the end – plus interest and fees, of course.
If you are having some financial troubles, you don't even have to pay toward the principal of the loan at all. You just have to pay the interest and fees, and then you can renew the loan for another term.
Consider the financial consequences of whatever decision you make. Renewing your loan can buy you time if you're really in a bind, but it will also cost you more in interest and fees. Balance the rewards and consequences to make the best choice for your situation.
Selling v. Pawning
In some cases, you may it better to sell rather than pawn jewelry. There are pros and cons to each, and you should consider them all when making your choice.
Pawn Shop in Scottsdale Arizona | Pawn Now
Selling your jewelry will get you a slightly lower price since the pawn store has to resell it for a profit. However, you also won't have to pay the interest and fees for the loan, so that money is yours free and clear. Of course, that also means that you don't get your jewelry back. It is gone forever (unless you want to rebuy it).
If you pawn jewelry, you get it back when you pay off the loan and you get a higher offer up front. You may pay a little more ultimately, but that may be worth it to you to keep what you love. Plus, you'll have that jewelry to pawn time and again if you want. Selling it gives you a one-time-only payoff.
A pawn loan can help you pay off medical bills, make up the difference on your rent when you've been missing work, or pay off that unexpected tax bill. Consider pawning your jewelry to get the money you need quickly.
Visit Pawn Now in Arizona to get the best prices when you pawn jewelry. We have eight locations in the Phoenix Valley Area, and we are regulars at pawn shows. Come see us to get an offer on your jewelry or other valuables.
Published By:
Pawn Now
Pawn Now Phoenix – 85043
691 W. Baseline Rd.
Phoenix AZ 85043
Phone +1 602 276-1664
Pawn Now Phoenix – 85022
14601 N Cave Creek Rd.
Phoenix AZ 85022
Phone +1 602 765-4444
Pawn Now Phoenix – 85019
4135 W. Indian School Rd.
Phoenix AZ 85019
Phone +1 602 442-2160
Pawn Now Mesa – 85207
8151 E. Apache Trail‎
Mesa AZ 85207
Phone +1 480 964-6666
Pawn Now Mesa – 85210
1145 S. Mesa Dr.
Mesa AZ 85210
Phone +1 480 668-1009
Pawn Now Apache Junction – 85120
900 W. Apache Trail
Apache Junction AZ 85120
Phone +1 480 288-7296
Pawn Now Mesa – 85204
361 S. Lindsay Rd.
Mesa AZ 85204
Phone +1 480 777-7771
Pawn Now Scottsdale – 85257
7841 E. McDowell Rd.
Scottsdale AZ 85257
Phone +1 480 300-4653