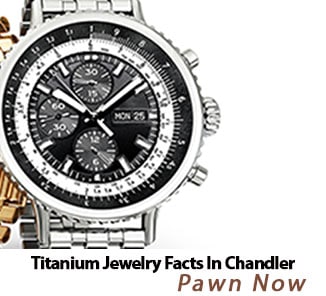 Discovered in 1791, titanium is one of the hardest natural metals in the world and has become more popular recently for jewelry. A metal that is stronger than steel, but incredibly lightweight, titanium is often used in rings and necklaces. The very name "titanium" alludes to the strength of the metal, since it was named after the strong Greek gods, the Titans. The metal makes a beautiful statement and is good for ring settings, because it holds a ring's gemstones firmly. For individuals who are allergic or sensitive to other metals, titanium is a good choice, as it has 100% hypoallergenic properties. Titanium has a natural grey color and a beautiful luster when used in jewelry. While it may be a popular metal, it can be fairly expensive because the extraction process is so tedious, and making jewelry with titanium is a complicated process. Despite this, the amount of titanium jewelry is plentiful.
Titanium is used in jewelry because it has great strength, won't corrode and resists scratches. Oils, sunlight and saltwater won't cause a reaction in pure titanium, making titanium jewelry a popular wedding band metal. The metal may come in a natural grey, but you can color it nearly any shade with oxidation. These colors can include pink, blue, purple and brown. The oxidation re-colors the surface of the metal only, however, which means the color can be scratched off if it comes in contact with a hard surface. Oxidation involves using electricity or heat to force oxygen onto the titanium; the result is a colored surface. If you want a piece of colored titanium jewelry, it's wise to choose a piece with a heavy satin finish, which will keep your ring looking shiny for a long time after long periods of wear. You can also opt for a titanium ring with colors set in grooves. Remember to always be careful if you wear colored titanium jewelry, making sure you handle it carefully. The color can't fade or chip, but you should protect it against scratches.
Titanium jewelry is attractive because the metal is non-magnetic, meaning it can be worn safely in environments where electromagnetic activity may occur, such as a laboratories. This quality makes it good for use in all kinds of pendants, bracelets and rings. Titanium jewelry is more popular with men than with women, especially in wedding bands. Unlike rings made of other metals, titanium rings cannot be resized. Titanium rings may be stretched up in size occasionally, but you can never "go down" a size. You should make sure you have the correct ring size whenever possible before purchasing a ring. When you need to clean titanium jewelry, you should use small amount of warm water and soap, then dry it carefully with a soft dry cloth. Never use toothpaste, household chemicals, or sterling silver jewelry cleaner to clean titanium. You should try to take your titanium to get polished annually by a professional jeweler so your jewelry maintains its luster and beauty for years.
Pawn Now in Chandler has a huge selection of  precious metal pawns and are willing to make a deal with you.
Published By:
Pawn Now
Pawn Now Phoenix – 85043
691 W. Baseline Rd.
Phoenix AZ 85043
Phone +1 602 276-1664
Pawn Now Phoenix – 85022
14601 N Cave Creek Rd.
Phoenix AZ 85022
Phone +1 602 765-4444
Pawn Now Phoenix – 85019
4135 W. Indian School Rd.
Phoenix AZ 85019
Phone +1 602 442-2160
Pawn Now Mesa – 85207
8151 E. Apache Trail‎
Mesa AZ 85207
Phone +1 480 964-6666
Pawn Now Mesa – 85210
1145 S. Mesa Dr.
Mesa AZ 85210
Phone +1 480 668-1009
Pawn Now Chandler – 85225
1731 N. Arizona Ave.
Chandler AZ 85225
Phone +1 480 821-7296
Pawn Now Apache Junction – 85120
900 W. Apache Trail
Apache Junction AZ 85120
Phone +1 480 288-7296
Pawn Now Mesa – 85204
361 S. Lindsay Rd.
Mesa AZ 85204
Phone +1 480 777-7771
Pawn Now Scottsdale – 85257
7841 E. McDowell Rd.
Scottsdale AZ 85257
Phone +1 480 300-4653