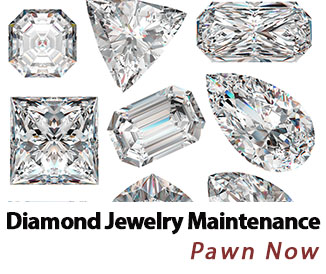 Women often love shopping and tend to possess an interesting array of jewelry. Diamonds especially are a woman's best friend. It is pleasing on the eyes to see the shimmer of jewelry, but a lot goes into maintaining diamonds sheen and glamour. Here are a few of the most popular and widely-used cleaning methods that are often employed to retain their sparkle. You can either follow some of the techniques which can be tried at home or you could take it to an Arizona jewelry store for professional cleaning services.
Domestic Methods
Mild soaps and detergents that are a common part of every household is one of the simplest ingredients that can be used to clean jewelry. For best results, pour lukewarm water into a cup and add a spoonful of detergent to it. After mixing it well, immerse the jewelry – rings, studs and the like – into the solution. Remember, this is not very effective for large pieces of jewelry. Let it soak overnight. In the morning, remove them from the solution and clean the soap particles by running it under a stream of water.
Make sure that you dry them properly after this as leftover water content can cause dampness and thus attract more dirt. For jewelry with intricate designs, use a pointed object, like a toothpick or the edge of a pin to extract the dirt accumulation. Alternately, you could also use ammonia and water in equal proportions and follow the same procedure. Ensure that you remove it from the solution just after twenty minutes. Another simple way of cleaning your jewelry is to use cleaning solutions available at the market. Buy a sample packet and follow the instructions as given.
Professional Cleaning Methods
If you do not like the hassles of cleaning your jewelry, just take them to the nearest jewelry store. Jewelers often use ultrasonic cleaning, which involves the usage of high-frequency waves. These waves produce tiny bubbles, which are invisible to the human eye and they help in removing dust particles.
It is often suggested that professional cleaning of jewelry is required annually. At other times, you can use any of the simple methods right at the comfort of your home. If you have pieces of jewelry that are also studded with other semi-precious and precious metals, keep in mind that they might require a different cleaning treatment. Always consult a gemologist or a jeweler before using such methods.
For everyday usage and maintenance, here are some simple tips:
Keep an eye out for accumulation of dirt. Depending on how often you use them, follow a regular cleaning regime.
Take the jewelry to the jeweler once you notice any kind of defects, cuts or scratches and it get it repaired immediately.
Never use strong chemicals for cleaning as they can be harmful.
Store your diamond jewelry in a soft, cloth-based bag receptacle. Ensure that you don't store it with other pieces of jewelry as they can cause grazing and chipping off of the diamonds. If there is paucity of storage space, you can always separate them by layers of soft cloth or sheaves of tissue paper.
Visit your local Arizona Diamond Pawn Shops to purchase or pawn your diamonds.
Published By:
Pawn Now
Pawn Now Phoenix – 85043
691 W. Baseline Rd.
Phoenix AZ 85043
Phone +1 602 276-1664
Pawn Now Phoenix – 85022
14601 N Cave Creek Rd.
Phoenix AZ 85022
Phone +1 602 765-4444
Pawn Now Phoenix – 85019
4135 W. Indian School Rd.
Phoenix AZ 85019
Phone +1 602 442-2160
Pawn Now Mesa – 85207
8151 E. Apache Trail‎
Mesa AZ 85207
Phone +1 480 964-6666
Pawn Now Mesa – 85210
1145 S. Mesa Dr.
Mesa AZ 85210
Phone +1 480 668-1009
Pawn Now Chandler – 85225
1731 N. Arizona Ave.
Chandler AZ 85225
Phone +1 480 821-7296
Pawn Now Apache Junction – 85120
900 W. Apache Trail
Apache Junction AZ 85120
Phone +1 480 288-7296
Pawn Now Mesa – 85204
361 S. Lindsay Rd.
Mesa AZ 85204
Phone +1 480 777-7771
Pawn Now Scottsdale – 85257
7841 E. McDowell Rd.
Scottsdale AZ 85257
Phone +1 480 300-4653