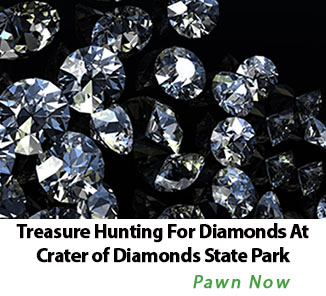 The name "Crater of Diamonds State Park" is bound to intrigue even the most jaded traveler. You may wonder if it really measures up to its dramatic name. Well, Crater of Diamonds State Park really does hold diamonds, and it really is a crater. And there's more: a visit to Crater of Diamonds State Park actually gives you the opportunity to take home any diamonds that you find during your visit. What's not to love about that?
If you are interested in gemology, geology, or just a fun family excursion, then Crater of Diamonds State Park is the place to be. The park is located south of Murfreesboro, Arkansas, on farmland originally owned by John Huddleston. It was Huddleston who found the first diamond on the property in 1906. Although many tried to make the farm into a private diamond mining operation, efforts failed. In 1972 the State of Arkansas bought the property and turned it into a state park. The park is open to the public for tours and diamond mining.
Crater of Diamonds State Park is around 37 acres. The land is plowed regularly, but not on a particular permanent schedule. The plowing helps overturn new earth so that more tourists can go hunting for real gemstones during their visit. The farm features a nice historical setup as well, with several antique structures, equipment and diamond washing pavilions, which let you experience the history of the diamond mine.
Visiting the Crater of Diamonds State Park is easy and doesn't require any special equipment. Diamond mining tools and kits can be rented or purchased at the park. The park does allow you to bring your own tools if you have them. Digging is not necessary. Some tourists simply hike through the park looking for diamonds. Other tourists like to dig. The park also has a Diamond Discovery Center to identify diamonds and other gemstones you may find without charge.
The first thing people want to know about Crater of Diamonds State Park is whether the diamonds on the site are actually worth anything. Generally, diamonds are not really valuable until they have been cut by a diamond cutter or jeweler. And some diamonds are so small that they simply cannot be cut. However, tourists have found some larger diamonds at Crater of Diamonds State Park, which were later cut even up to D Flawless, which is the classification of some of the most valuable diamonds in existence.
It's better to keep in mind that most of the diamonds you find at Crater of Diamonds State Park will not make you rich. Instead they will make great keepsakes from your experience. They can usually be mounted on jewelry. Just remember than the staff at Crater of Diamonds State Park are not diamond cutters or jewelers. They can't rate the diamonds or cut it for you, but they can certify that the diamond is authentic.
A visit to Crater of Diamonds State Park will teach you a great deal about diamonds, history and mining and will let you experience nature in a unique setting. Crater of Diamonds State Park is a great visit for the entire family.
Pawn Now buys, sells, and pawns Diamonds in Arizona
Published By:
Pawn Now
Pawn Now Phoenix – 85043
691 W. Baseline Rd.
Phoenix AZ 85043
Phone +1 602 276-1664
Pawn Now Phoenix – 85022
14601 N Cave Creek Rd.
Phoenix AZ 85022
Phone +1 602 765-4444
Pawn Now Phoenix – 85019
4135 W. Indian School Rd.
Phoenix AZ 85019
Phone +1 602 442-2160
Pawn Now Mesa – 85207
8151 E. Apache Trail‎
Mesa AZ 85207
Phone +1 480 964-6666
Pawn Now Mesa – 85210
1145 S. Mesa Dr.
Mesa AZ 85210
Phone +1 480 668-1009
Pawn Now Chandler – 85225
1731 N. Arizona Ave.
Chandler AZ 85225
Phone +1 480 821-7296
Pawn Now Apache Junction – 85120
900 W. Apache Trail
Apache Junction AZ 85120
Phone +1 480 288-7296
Pawn Now Mesa – 85204
361 S. Lindsay Rd.
Mesa AZ 85204
Phone +1 480 777-7771
Pawn Now Scottsdale – 85257
7841 E. McDowell Rd.
Scottsdale AZ 85257
Phone +1 480 300-4653