The world watched in horror as the headlines rolled in the night that terrorists attacked Paris. The death toll rose throughout the night as we learned that shootings and explosions were going off around the City of Light. A theater full of people were held hostage at one point. By the time it was all over, 130 people were dead and hundreds more were injured.
It wasn't the first time the world watched as terrorists killed hundreds of people gathered together in one place. Unfortunately, these attacks are becoming more common, as are mass shootings by so-called domestic terrorists and lone gunmen.
After all the politicians express their condolences and everyone has sent out their thoughts and prayers to the victims, the conversation turns to what we're going to do about the problem. After a terrorist attack, the discussion is usually one of foreign policy and counter-attacks. After a mass shooting, the discussion is usually one of gun control.
Now we're seeing a new response: A rise in people purchasing firearms to protect themselves.
A Push for Protection
Seasoned gun owners and those who have never held a gun in their life are buying guns in droves after the Paris attacks in November. Some instructors are saying that they are even seeing people in their 70s and 80s coming in for their first guns. People are not only buying more guns, but they are also signing up for classes to get their concealed carry permit so that they can carry in more places.
Gun shop owners say that most people are looking at small handguns that are easy to operate and easy to conceal. Stories about shootings at traditionally safe places like theaters and churches are making some people feel that they have to be prepared for an attack anywhere they go, so they want to have a gun on them at all times. Some shop owners say that their shelves were completely cleared of handguns right after the attacks in Paris.
Many who are buying their first handguns are citing safety as their No. 1 concern. They say that they want to be prepared for anything now that these types of incidents are becoming more and more expected.
Some bought their first handguns when unrest broke out across the country during the riots in Baltimore or even the protests in Ferguson. The recent attacks have made some of them nervous enough to want to buy a second gun, ensuring that they have enough weapons and ammunition to protect themselves and their families in the event of an attack.
Being Ready Anywhere
Owning the gun is not enough for some to feel protected. Many are also now signing up for concealed carry courses so that they can be armed legally without potential attackers knowing it. Many states now recognize concealed carry permits from other states, so getting a permit in one state entitles the holder to carry in many more states. Getting a concealed carry permit in Utah allows you to carry a gun in 32 states.
Courses for concealed carry permits primarily cover the safe handling of a firearm, including how to properly hold it, fire it, and store it. The course also covers issues such as when you can fire and what you have to do to legally defend yourself.
One thing that most gun instructors and gun owners agree on: You should not own a gun or even hold a gun unless you are willing to pull the trigger and take a life. With the uptick in violence around the world, more and more people are willing to do just that since they see their options as kill or be killed.
Buying Your Own Gun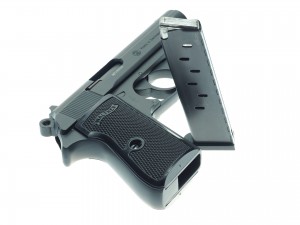 The decision to own or use a firearm is a personal one. Even among gun owners, everyone has their own feelings on how useful having a gun is and when it should be used.
If you feel that owning a gun will give you more opportunities to defend yourself and you will feel safer owning one, you should take a course teaching you how to properly handle and fire a gun. Spend some time at a shooting range and get comfortable using the gun. Learn everything you can about the laws regarding firearm use, such as when you are justified in shooting someone for defense.
Spend time researching your gun options, as well. Even if you know what type of gun you want to own, such as a handgun, you will want to try out several different models to see which one feels best in your hand. Feeling confident is key to your success.
Pawn Now of Arizona sells a variety of firearms, including hand guns and rifles. Sign up for your safety and instruction course, and then visit us to learn more about your gun options and find one that feels good to you. We offer some of the best prices on high-quality guns and ammunition.
If you have guns you want to sell, we also offer some of the best purchase prices and values on pawn loans. You can sell or pawn your guns to get the money to expand your armory or to upgrade your weapon. Contact us today to see our selection and to learn more.
Published By:
Pawn Now
Pawn Now Phoenix – 85043
691 W. Baseline Rd.
Phoenix AZ 85043
Phone +1 602 276-1664
Pawn Now Phoenix – 85022
14601 N Cave Creek Rd.
Phoenix AZ 85022
Phone +1 602 765-4444
Pawn Now Phoenix – 85019
4135 W. Indian School Rd.
Phoenix AZ 85019
Phone +1 602 442-2160
Pawn Now Mesa – 85207
8151 E. Apache Trail‎
Mesa AZ 85207
Phone +1 480 964-6666
Pawn Now Mesa – 85210
1145 S. Mesa Dr.
Mesa AZ 85210
Phone +1 480 668-1009
Pawn Now Chandler – 85225
1731 N. Arizona Ave.
Chandler AZ 85225
Phone +1 480 821-7296
Pawn Now Apache Junction – 85120
900 W. Apache Trail
Apache Junction AZ 85120
Phone +1 480 288-7296
Pawn Now Mesa – 85204
361 S. Lindsay Rd.
Mesa AZ 85204
Phone +1 480 777-7771
Pawn Now Scottsdale – 85257
7841 E. McDowell Rd.
Scottsdale AZ 85257
Phone +1 480 300-4653