Earrings: The Ultimate Fashion Statement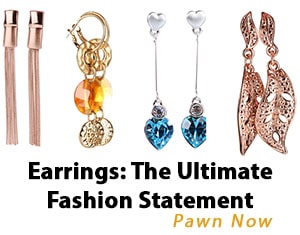 Earrings
enhance a woman's overall look and appeal, be it at a social event, a day at the beach or in the workplace. They form a vital aspect of every lady's wardrobe.
An Apache Junction woman can transform herself drastically yet subtly with a change of earrings that adds to her personality. She can showcase her wild side, her no-nonsense business side, her feminine and pretty side or her elegant and classy side with the help of a pair of earrings.
A little history about the concept of earrings takes us back to 3000 BC when the kind of earring one wore marked their status in society. So only the high and mighty people in power would be able to sport fine, expensive jewelry in Apache Junction and the other common populace would adorn themselves with earrings that were mere copies of the wealthy society's jewelry.
Today, there are countless kinds, styles and forms in which earrings are made. There is a plethora of earring choices for every kind of personality. While fine, pricey jewelry embedded with precious stones such as rubies and emeralds remain timeless classics and so do semi-precious stone embedded earrings, the most popular kind of earrings is the costume jewelry ones thanks to their low prices, sheer variety in styles and low cost of maintenance.
Earrings are available in numerous forms in the worldwide market today, be it in the form of danglers, chandeliers, droplets, hoops or studs. There are unlimited styles and choices when it comes to these ear accessories. Women who are scared of piercing their ears can go for clip on earrings that are sold in almost every kind of style that pierced earring are sold. The wearer can become anything they want to with the right kind of earring that reflects their attitude and state of mind whether it is funky, soft, sexy, classy, glamorous or simple.
Most women can't have enough earnings for every pair lends something different to the outfit they put on. The ear accessories add the finishing touches to the overall look of the person, no matter how small or big they are. Take for instance the classic LBD (little black dress), when you put on a dazzling pair of sapphire studs, your look will be classy and timeless. Now if you remove them and add on, say long shiny chandelier earrings, you will ooze Hollywood glam while wood dangles will make you appear funky and trendy. The sexy look can be achieved with a pair of red button earrings matched with a red bead necklace.
You ought to have a great variety of earrings in your wardrobe as every earring has something to say and some aspect of your personality to reveal. Considered to be among the most vital accessories, earrings should be chosen in sync with your way of life and tastes since it doesn't make much sense to invest in a pair of earrings that doesn't gel well with your persona.
Not only are earrings lasting fashion statements, they also make for an affordable and touching gesture as gifting options.
Pawn Now is a local pawn shop with 9 convenient locations in the Phoenix metro area, contact us today or stop by our store for any Arizona diamond or jewelry pawning matters!
Published By:
Pawn Now
Pawn Now Phoenix – 85043
691 W. Baseline Rd.
Phoenix AZ 85043
Phone +1 602 276-1664
Pawn Now Phoenix – 85022
14601 N Cave Creek Rd.
Phoenix AZ 85022
Phone +1 602 765-4444
Pawn Now Phoenix – 85019
4135 W. Indian School Rd.
Phoenix AZ 85019
Phone +1 602 442-2160
Pawn Now Mesa – 85207
8151 E. Apache Trail‎
Mesa AZ 85207
Phone +1 480 964-6666
Pawn Now Mesa – 85210
1145 S. Mesa Dr.
Mesa AZ 85210
Phone +1 480 668-1009
Pawn Now Chandler – 85225
1731 N. Arizona Ave.
Chandler AZ 85225
Phone +1 480 821-7296
Pawn Now Apache Junction – 85120
900 W. Apache Trail
Apache Junction AZ 85120
Phone +1 480 288-7296
Pawn Now Mesa – 85204
361 S. Lindsay Rd.
Mesa AZ 85204
Phone +1 480 777-7771
Pawn Now Scottsdale – 85257
7841 E. McDowell Rd.
Scottsdale AZ 85257
Phone +1 480 300-4653