The Pearl Necklace — A Timeless Beauty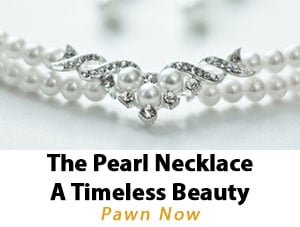 They say that a pearl necklace is the first and foremost accessory that every woman ought to possess for it exudes timeless beauty and eternal classiness by making the lady look her sophisticated best. The reason why pearl necklaces are considered evergreen is because they are available in so many naturally occurring shapes and sizes that they manage to make everyone, from a young girl to her mom to her grand mom look beautiful. These precious accessories manage to go along with almost every kind of getup, no matter what culture in the world you belong to.
The quality of the pearl, which includes factors such as its shine, roundness, thickness and size, decides its market value. Thus the bolder looking saltwater pearls come with a higher price tag than the more modest looking, cultured freshwater ones. The beauty of pearl necklaces is that they are produced naturally in a variety of colors. Those that have lighter shades of blue or pink are generally sported by the younger lot of women and the creamier, ivory-hued pearls are preferred by older ladies. The most expensive kinds of pearl necklaces are those made with the rarely found black pearls.
Pearls have a lot of history and folklore attached to them and there are various ancient stories that have been generated all over the world, regarding their origin. While Chinese folklore regards these precious gems as the tears of a dragon, Roman mythology says that they are the tears of Venus. Jewelry designers all over the planet have been experimenting in the creation of various kinds of pearl accessories in order to fully utilize their beauty. While the timeless classic strand is a unanimous favorite among the masses, pearl neck pieces are also being created in gold, silver or platinum. Complimentary jewelry adornments such as charms, brooches and earrings make the pearl necklace stand out even more.
The reason why pearls enjoy so much popularity worldwide is because of their low maintenance. It is recommended that people wear their pearl items as frequently as possible since the body's natural oils will help in the maintenance of their dazzling, fresh appearance. When you store them, the pearls will lose their sheen and look dried up. One should also make sure that items like hair spray or body lotion are kept far away from pearls as they make them deteriorate at a fast rate.
Thanks to the range of prices that pearls are available in, it is a hit since the time of its discovery among the high classes and the common masses alike. Well known beauty icons such as Jackie Kennedy and actress Maria Berenson had an affinity for pearls much like the current celebrity of today does, which includes names like Michelle Pfeiffer, Sophia Loren, Jennifer Lopez and Paris Hilton. These are so versatile that
Chandler fashion experts
are predicting them to be a must-have accessory for men in the years to come. For now, the way a pearl necklace sits on a woman's neck makes her look stylish, simple, elegant and beautiful in the way no other precious gem can.
Pawn Now is a local Arizona pawn shop with 9 convenient locations in the Phoenix metro area, contact us today or stop by our store for any Arizona diamond or jewelry pawning matters!
Published By:
Pawn Now
Pawn Now Phoenix – 85043
691 W. Baseline Rd.
Phoenix AZ 85043
Phone +1 602 276-1664
Pawn Now Phoenix – 85022
14601 N Cave Creek Rd.
Phoenix AZ 85022
Phone +1 602 765-4444
Pawn Now Phoenix – 85019
4135 W. Indian School Rd.
Phoenix AZ 85019
Phone +1 602 442-2160
Pawn Now Mesa – 85207
8151 E. Apache Trail‎
Mesa AZ 85207
Phone +1 480 964-6666
Pawn Now Mesa – 85210
1145 S. Mesa Dr.
Mesa AZ 85210
Phone +1 480 668-1009
Pawn Now Chandler – 85225
1731 N. Arizona Ave.
Chandler AZ 85225
Phone +1 480 821-7296
Pawn Now Apache Junction – 85120
900 W. Apache Trail
Apache Junction AZ 85120
Phone +1 480 288-7296
Pawn Now Mesa – 85204
361 S. Lindsay Rd.
Mesa AZ 85204
Phone +1 480 777-7771
Pawn Now Scottsdale – 85257
7841 E. McDowell Rd.
Scottsdale AZ 85257
Phone +1 480 300-4653